YES there is…  The very real challenge is……
HOW?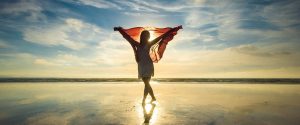 Anger, hate, back-stabbing, corruption, judgements and intolerance seem to be the buzz words being used at the moment all around the world.
How do we negotiate through this?
Love not hate
Fact not fiction
Truth not lies
Equality not division
Gratitude not fear
Trust not hope
Peace not angry judgment
I am sure that you all have your own thoughts as to how to survive this maelstrom of world chaos, however I can firmly recommend seeking out the good that is all around us, even if it as small as a smile from a stranger and connect to that.  So a suggestion as a way forward is to focus on the following:
LOVE, APPRECIATION, RESPECT, FREEDOM, TOLERANCE, GRATITUDE, HONOUR, TRUST, TRUTH, HAPPINESS, CONTENTMENT, CLARITY, PEACE, JOY and EQUALITY.
This is when Namaste takes place.
' I honour the place in you in which the entire universe dwells.
I honour the place in you which is of love, truth, light and peace
When you are in that place in you and I am in that place in me
We are one.'
Please share so that we can spread love not hate.